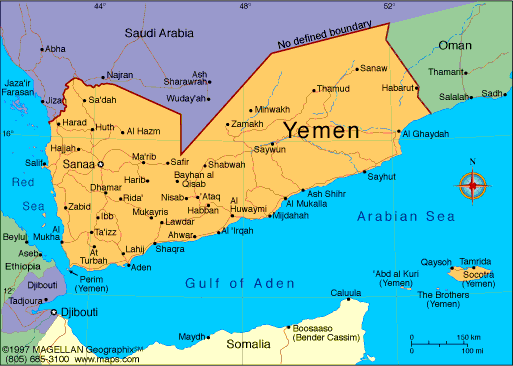 A Coffee and a Prayer? 
Do you know that every time you have a Coffee, you have an opportunity to strategically pray to change a Nation?
Do you know:
·        Where Coffee was first brewed in 9th century before the rest of the world started drinking it?
·        The birthplace of Algebra and where the ancient trade route in frankincense and myrrh was?
·        Where the kingdom of Queen of Sheba was?
It was in Yemen!
Yet today, this nation is in dire humanitarian crisis and needs your intercession for divine intervention. 
 
From Fame to Famine.
Yemen is famed for coffee, frankincense and myrrh, Queen of Sheba, and  as the birthplace of algebra. Coffee was first brewed in Yemen around the 9th century which helped Sufis stay up during late nights of devotion, and was later brought to Italy by a Venetian trader.  While the World enjoys coffee almost in in every household, today Yemen is struggling to survive in the midst of civil strife facing a dire humanitarian crisis. Eighty percent of the population is in need of some form of humanitarian assistance, and almost half of the population is food insecure, making Yemen's hunger crisis one of the worst in the world.
Yet, it is not the concern of most of the world; but Christians must take this nation to heart and pray for divine intervention to turn this nation to God. Although Yemen has been strategically situated and Aden as a key maritime port over centuries, today it has become the battlefield of super powers of Middle East and sectarian war. However, the Lord can touch this nation to make it a gateway to take the Gospel to the surrounding nations.
Yemen Statistics:
Area: 531,869 sq km.  Mountainous south and southwestern portion of the Arabian Peninsula and the Indian Ocean island of Socotra. Capital: Sana'a
Population: 24,255,928    Annual Growth: 2.90%
Major People Groups: 94% Arab, 4% Immigrant.   
Religion: 99% Muslim.
Conflicts and Wars.
In the last 40 years alone there have been 3 civil wars, caused by tribal differences and various ideologies. Since 2012, Yemen has seen political turmoil and sporadic violence when the former president Ali Abdullah Saleh was ousted resulting power vacuum. In March 2015, Huthi militias forced President Hadi and his government into exile in Saudi Arabia.
The present civil war is a proxy war by major Islamic powers of Sunni and Shia sects. The Sunni Saudi Arabia in the past year has bombing the Iranian supported Houthi-held areas causing massive destruction to life and property.
The UN says 2.4 million people have been internally displaced, and at least 3,200 civilians have been killed - most were victims of airstrikes by the Saudis and their allies.
Christians in Yemen: 
Of Yemen's 24 million people, 99.5% are Muslims with only 9,056 Christians
Christianity once had a strong Christian presence in Yemen, but was almost wiped out by the 7th Century Muslim conquest.
At present most Christians are expatriates and the rest are mostly Roman Catholic and Orthodox and very few Protestants.
According to Open Doors, Christians in Yemen face severe restrictions and persecution is considered at a high level; therefore, the church worldwide must continue to pray for this needy nation.
Killing of Catholic workers.
Last month an extremist Islamic group attacked a Catholic retirement home in Yemen's port city of Aden that was established by Mother Teresa, killing of four Missionaries of Charity and 12 others. Those killed included four Catholic nuns from India, four local nurses and other staff.
Another priest was abducted and later was threatened to be crucified during the Easter.
In March, the government of Israel evacuated the Jews living in Yemen due to the threat of their existence.
Challenges for Prayer:
Yemen's future stability is fragile due to religious and political tensions, rapidly dwindling resources and one of the world's highest birthrates. It is estimated that by 2017, Yemen will cease earning income from its oil reserves and the capital will run out of viable water supplies.
Pray for new means and methods for this nation to care for the very survival of its economy and people. Foreign involvement due to the political, religious and economic situation is almost inevitable; pray that outside powers act in a responsible and wise manner
Today people in Yemen instead of drinking Coffee, the narcotic 'qat' holds 80% of Yemeni adults captive.
Coffee & Prayer for Yemen. 
Just imagine what could happen if every Coffee drinking Christian around the world would pray for Yemen each time they drink a coffee? Why not talk to God when you have your next coffee about Yemen?
Let the aroma of prayer ascend to God each time you enjoy the aroma of coffee!
·        Pray for the Gospel to go forth in power despite current legal restrictions.
·        Pray for the Christians in Yemen, that God will use them as a light in darkness and give them strength and courage to continue in such repressive environment.
·        Pray for the growth of the church that God will raise Yemeni Christian leaders who will guide this small community in this time of crisis.
·        Yemen needs concentrated, constant and persistent prayer. Pray that the Church worldwide will seriously consider the urgency and dire conditions of this nation and commit themselves to pray faithfully.
Whatever your choice of coffee is; whether concentrated, instant, expresso, or filtered, why not adapt your own style of prayer for Yemen!
Payer Resources:
Download the Prayercast video for Yemen to your phone and pray. http://prayercast.com/yemen.html
Use 30 Day Prayer guide to Yemen. http://www.pray4yemen.com/mop/30dayprayerguideyemen.pdf
(Sources: Operation World, BBC, Open Doors, Prayercast.)