1.     An overview of the Refugee Crisis.
The refugee crisis has been a major highlight in the last year when over 1 million refugees crossed over to Europe from the war-torn areas of Syria, Iraq and from many other nations in the Middle East and Africa.
People are displaced and made refugees for many reasons, primarily due to political conflicts, war, natural calamities.
To pray effectively, we must understand the people, issues, terms and definitions involved in this crisis.
"A refugee" is defined as "a person who has been forced to leave their country in order to escape war, persecution, religious or political reasons, and natural disasters." (The UN estimates there are over 13 million refugees worldwide.)
"Migrants" are those who "choose to leave in order to improve future prospects for themselves and their families in another country."
"Human trafficking" is the "use of force, fraud, or coercion to lure their victims and force them into labor or commercial sexual exploitation" which generates billions of dollars of profit per year, second only to drug trafficking.
While this crisis has major social, political, geographical and religious implications, it is important to note that a large number of Christians are affected by this present crisis.
The Arab Spring began five years ago with a wave of protests in Arab countries, but eventually turned out to be a nightmare for Christian communities who have been living in these nations for centuries. Suddenly they have been displaced by persecution from ISIS and other extreme groups who have given them the choice to ''pay the jizya (tax), convert or be killed."
2.     "Is this the end of Christianity in the Middle East?"
The above titled New York Times article highlights the genocide of Christians especially in Syria and Iraq.
Most of these Christians call themselves Assyrians, Chaldeans or Syriac, different names for a common ethnicity rooted in the Mesopotamian kingdoms that flourished between the Tigris and the Euphrates rivers for thousands of years. Christianity arrived during the first century, and tradition holds that Thomas, one of the Twelve Apostles, sent Thaddeus - an early Jewish convert to Mesopotamia - to preach the gospel.
When the first Islamic armies arrived from the Arabian Peninsula during the seventh century, the Assyrian Church of the East was sending missionaries to China, India and Mongolia. The shift from Christianity to Islam happened gradually under Islamic rule; eventually Christians became subservient and had to pay the jizya, and for 1,300 years different religions thrived side by side.
The fall of the Ottoman Empire and the onset of World War I ushered in the greatest period of violence against Christians in the region.  Genocide was waged by Young Turks in the name of nationalism, not religion, and left at least two million Armenians, Assyrians and Greeks dead. Nearly all the victims were Christian. Others settled in Iraq and Syria, where they were protected by the military dictators who courted these often economically powerful minorities.
The Middle Eastern Christian population — in countries like Egypt, Israel, Palestine and Jordan — declined from 14% to roughly 4%. (In Iran and Turkey, they're all but gone.)
In Iraq, with the fall of Saddam Hussein, Christians began to leave in large numbers and their population shrank from over 1.5 million to less than 500,000 today. (Many of them internally displaced.)
In Syria, before the civil war broke out in 2011, 10% of the population were Christians and nearly 600,000 have found themselves with no choice but to flee the country, driven out by extremist groups. Many are in refugee camps or in neighboring countries. The stories of pain and horror of those left behind and persecuted for their faith are heartbreaking. So while you read or see news clips about refugees, we must intercede for many of these Christians fleeing persecution.
The United Nations estimates the total number of Syrian refugees alone at over 3 million, and last year identified about 1.5 million Iraqi refugees.  The total displaced around the globe has reached approximately 30 million!
The refugee crisis will certainly change the face of the world. This is why intercession is very important at this time!
While the Paris terrorist attack last November highlighted the vulnerability of Europe's cities, with extremists taking advantage of the refugee crisis, there is yet a greater window of opportunity for Christians in Europe to minister to Muslims as never before. In one media interview a TV reporter asked why these Muslim refugees are not running to other oil rich Gulf States or to Islamic nations for refuge?
Maybe they think Christian nations are more compassionate and generous, or, are they looking for an alternative to Islam?
Intercession can open hearts of genuine seekers and therefore "while we have opportunity, let us do good to all people, and especially to those who are of the household of the faith." (Galatians 6:12)
3.     The Story of the "Refugee Bible".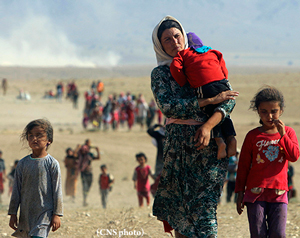 Reading the Bible from "Refugee eyes" will certainly revolutionize your intercession! You will be surprised how present-day events correspond with many biblical accounts of characters who were displaced and made refugees.
Adam's family became the first displaced. They became migrants leaving their original dwelling for an alternative lifestyle.
Abel was the first victim of religious persecution, and someone noted that this first religious war wiped out a quarter of the world's future population! 
Noah and his family were the first migrant "Boat People" ending up in Turkey (Mt. Ararat) displaced by the flood which was God's plan of salvation!
Abraham was a refugee in Egypt because of a famine in Canaan, and his wife was almost a victim of sexual exploitation.  The same happened to his son Isaac.
 Jacob became a refugee in Syria, and Joseph was a victim of human trafficking and slavery in Egypt.
Moses himself was a refugee in the land of Midian before he led the largest refugee migration of 3 million Israelites from Egypt in one night! Only one "Relief Agency" took care of them for 40 years! God gave them bread from heaven and water from a rock.
David was a refugee in Philistine country running from Saul's persecution, and Mephibosheth, Jonathan's son, became a child war victim, disabled and a refugee in Lodebar.
Naomi's family were refugees in Moab due to a famine.
Israel became refugees, again, as exiles for 70 years in Babylon and Persia. Nehemiah, Jeremiah, Ezekiel and Daniel were refugees as well.
The New Testament begins with the story of the "North African refugees."
 Jesus and His parents were refugees in Egypt, North Africa, because of Herod's persecution!
The Prodigal Son became an economic migrant becoming destitute in another country.

 

Many in the Early Church,

including Apostles, became refugees through persecution and the

Church in Antioch and many others were planted by refugees

(

"…those scattered"

). 
​So, does the Bible Understand a Refugee Crisis? Yes, it does.
4.     Intercessors as Refugees
Intercessors can learn from the refugees' experience of being totally dependent on God. Intercession is not an option or an alternative; it is the primary source of bringing hope.
King David says, "God is our refuge" and that "He only is my rock and my salvation, my stronghold; I shall not be shaken... my refuge is in God." (Ps 46:1, 62:4)
Abraham chose to live in a tent (like millions of refugees today), "by faith" as an alien in the land of promise, but was "looking for the city" whose architect and builder is God (Heb 11:9).
Intercessors must guard themselves from the temptation of being overloaded with prayer requests for material needs and for earthly objectives without prioritizing the Kingdom purposes of interceding for the lost souls. Let us keep interceding for "heaven's will" on earth that "none should perish" and that this gospel must be preached to all nations. Missions prayer must not be substituted for temporary needs.  
5.     Fasting for the Refugees  
Intercessors must not only pray but also fast – the kind of fasting which Isaiah 58 introduces — which is done outside the prayer closet.
"Is this not the fast which I choose …Is it not to divide your bread with the hungry, and bring the homeless poor into the house? When you see the naked, to cover him, and not to hide yourself from your own flesh?"
This fasting involves intercession combined with humanitarian aid which has a promise of great spiritual breakthrough for those in spiritual darkness!
 "Then your light will break out like the dawn, and your recovery will speedily spring forth…  
Then you will call, and the Lord will answer. You will cry, and He will say, 'Here I am.'"
We must pray and partner with the European Christians (See links below) and help their ministry agencies as they provide relief, believing for an unprecedented spiritual breakthrough among Muslim people.
You can take an offering for the refugees or share with the relief efforts of those involved with them.
Pray for:
·       Protection of refugees from dangers of travel and from being exploited.
·        Pray for sufficient support and provision for the refugees and for their health.
·        Remember the refugee children — the most vulnerable and exposed to danger.
·        Pray for those separated from families and loved ones, for comfort from pain and trauma.
·        Pray for suitable settlement in the right locations or to be resettled back in their own nation.
·        Pray that churches will have a heart for the refugees and serve them and share the love of Christ and the gospel.
·        Finally, let us pray that God will cause these evil wars to cease, and peace would prevail in this region.
                          "He makes wars cease to the end of the earth; He breaks the bow and cuts the spear in two; He burns the chariot in the fire…The God of Jacob is our refuge." Psalm 46 
        Read: The Statement of the Pentecostal European Fellowship 
         Helping Refugees via PEM Members.  
(Sources and photo credits: UNHCR, New York Times, BBC, Getty images.)